GFX Tool Pro For BGMI Apk Download
Want to improve your BGMI gameplay? Do and Want to edit the graphics of BGMI and PUBG? You just need to download GFX Tool Pro for BGMI and PUBG.
If you don't own a gaming smartphone and your gaming experience is not quite as expected then the GFX tool can improve your FPS or frames per second, ultimately improving your gameplay. However, using this tool without prior experience can be complicated. Here is a complete guide on What is GFX tool and how to improve FPS in BGMI.
What is the GFX tool?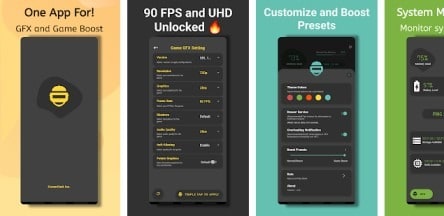 The GFX tool was developed by CornerDesk Inc and using this tool you can drastically improve your BGMI mobile gaming performance on any Android smartphone.
The GFX Tool helps gamers to unlock higher resolution and HDR gaming and a very smooth 60fps gaming experience. Plus, this tool is also completely free to use. You can use and enable all the FPS levels with the GFX tool. However, remember that the setting you have chosen must be supported by your phone, or else it may not work.
It is a third-party application and is completely safe to use for games like BGMI. More than 1 million people have downloaded this application for BGMI from the Google play store, and this count increases to a much greater extent when adding the overall downloads.
The GFX tool basically edits the OBB files and texture files of BGMI which allows users to modify the graphics settings. It increases the default playable resolution, enables HDR for some devices, and many other addon settings that are useful for improving the gaming
BGMI GFX Tool Pro APK Features
Optimize BGMI Gameplay
The best reason to download GFX Tool for free is to be able to unlock HDR graphics on low-end devices. Using this app you can enable BGMI to run smoothly on even low-range mobile devices which are not meant to run BGMI normally. This app has some really good settings options that can be enabled or disabled as per the user's requirement and can run the game properly without any kind of issues.
Advanced Options
Although this app comes with many in-build settings that can be automatically applied to the game, there are many options available that can be enabled by the users. You just need to download GFX Tool APK, install it, and open this app to enable or disable settings for your BGMI game. You will have options like Anisotropic Filtering (AF) Level, MSAA Level, Anti Aliasing, Extreme FPS Level, and more to customize your gameplay.
Easy-to-use interface
The features of this app may seem like some advanced stuff but the interface of this app makes it easy to use. You can easily navigate around and change the settings according to your needs. You can also enable the smart widget feature of this app to launch the BGMI game without opening the GFX app every time you want to play BGMI. Configure the settings once, and enable the widget to open the game with those settings every time you want to play.
Save Device Resources
This app is very small in size so it won't eat up your device resources, so it saves only for BGMI games. In addition to changing the game layout and sensitivity settings from this app, you must change them in the game itself to stop them from automatically resetting to default. Although you can use the GFX app to change it if you want, that's another reason to download GFX Tool for free.
100% Free and Safe
Although there are many BGMI GFX apps available on the internet and even on the Google Play Store, beware of fake apps and websites that provide GFX Tool MOD APK or cracked versions of this app.
Download BGMI GFX Tool Pro
How to Download BGMI GFX Tool Pro
Click download button
Click here to get the link
The link will appear in 15 seconds.
Click the go to the link
Conclusion
So, this is All About GFX Tool Pro For BGMI Apk Download, IF You like this article or have any Doubts Please let Us Know in Comment Section. Thank You.

Read also